Skilled Nursing Facility
OakBend Medical Center offers the only hospital-based Skilled Nursing Facility in Fort Bend. Skilled Nursing Facilities are licensed healthcare facilities that are inspected and regulated by the state's Department of Health Services. OakBend's Skilled Nursing Facility in Fort Bend offers a place for those who need short-term rehabilitation or skilled nursing medical care following a hospital stay or long-term nursing supervision because of medical conditions or disabilities. Patients who still need IV antibiotics after hospitalization and patients who need more time to regain strength after a procedure might be good candidates for our Fort Bend Skilled Nursing Facility. We are equipped to care for individuals needing 24-hour care in Fort Bend and the surrounding areas for post-operative recuperation, or complex medical care demands, as well as chronically ill individuals who can no longer live independently. All patients are under the skilled care of physicians, who visit regularly and are responsible for each patient's overall plan of care.
Why Skilled Nursing?
The goal of our Skilled Nursing Facility in Fort Bend County is to help patients feel at home. Skilled nursing care is unique in this way – our goal is to restore each patient as quickly as possible to their highest level of functioning and independence. Patients can get out of their rooms and take meals in a communal dining room or enjoy time outside enjoying the weather on our patio, where pets are allowed to visit their owners who are under our care. Whether patients come to us for short term care or long term care, they can be assured that they will receive top-quality care with knowledgeable, trustworthy and efficient staff.
As the only hospital-based Skilled Nursing Facility in Fort Bend, the Skilled Nursing Facility at OakBend Medical Center is able to provide patients with specialized care services in an environment where their doctors are only a step away. Procedures and tests do not require a separate trip to an imaging center or a clinic, as everything patients may need is onsite at our Jackson Street Campus. Physical therapy is a large part of the rehabilitation services we offer, and physical therapy staff visit daily to assist patients in walking, getting in and out of bed, and completing prescribed physical therapy treatments at a Skilled Nursing Facility in the Fort Bend area. Our physical therapists work with nurses and doctors to develop and implement a comprehensive care plan for each patient, and ensure that patients are recovering as quickly as possible to reach their best potential. Physical therapy may take place in an individual or group setting depending on patient needs and their personal care plans.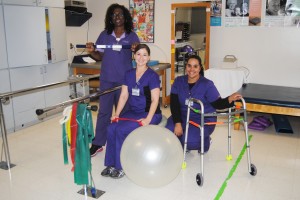 What to Expect:
Social and educational activities. Participation in social activities is encouraged for patients in our Skilled Nursing Facility in Fort Bend.
On-site critical care nursing. Highly trained critical care nurses and doctors are on staff to care for patients who are high-risk or criticall ill.
End-of-life or hospice care. OakBend Medical Center offers two around-the-clock hospice care rooms, including pain management and support for families.
Cath Lab Access. OakBend Medical Center's on-site cath lab can perform a procedure within 90 minutes of notification of a heart issue
24-hour a day emergency physician coverage. Emergency physicians are always on-site at the hospital to provide health care.
Pharmaceutical, laboratory, and radiology services. On-site services make getting tests and results quick and easy with no need to travel. OakBend Medical Center has an on-site pharmacy and performs most standard diagnostic tests on-site.
Key higher level of care services available 24 hours a day. Our highly trained staff is capable of providing a higher level of care for Skilled Nursing Facility patients.
Quiet rounding. To ensure essential rest, if patients are asleep when nurses round on patients for vital statistics, they will return at a later time for the most undisturbed sleep possible.
Occupational, speech and physical therapies. These therapies can help speed recovery, and are offered by talented and highly-trained staff.
Semi-private room accommodations (private rooms upon availability).
Nutrition counselling. This service is provided for all seniors at OakBend Medical Center's Skilled Nursing Facility in Fort Bend.
Discharge planning and follow-up calls. Staff will follow up with patients regularly after discharge to ensure that they have all the help and support necessary.
Personal Care Offered by Friendly Staff:
Bathing
Dressing
Eating
Walking
Incontinence
Maneuvering in and out of bed
Resources:
Hear From Patients:
"OakBend Medical Center has some of the kindest staff I've ever seen. They were exceptionally good, coming in to check on me and being very attentive to my needs. I could tell the staff had a lot to deal with but they never let that interfere with treating me or giving me the best care possible. I appreciate them very much. OakBend is as complete a facility as I've seen." – Roland R.
"The entire staff here at Skilled was absolutely amazing. They made my uncle's recovery very easy and pleasurable. We appreciate all of your patience and support. There are not enough words to express our gratitude!" – Skilled Patient
"It's not easy to point out someone when everyone on the team does an outstanding job. I received so much encouragement from all. I appreciate and love them all." – Skilled Patient
"I have felt this is a great place to recover. I did not know about Skilled Nursing previously. I have been well taken care of. Everyone has been helpful, kind, and friendly. I'm going to miss such good care and having all requests handled. The therapy group was very helpful. I got a great deal of benefit from it." – Skilled Patient